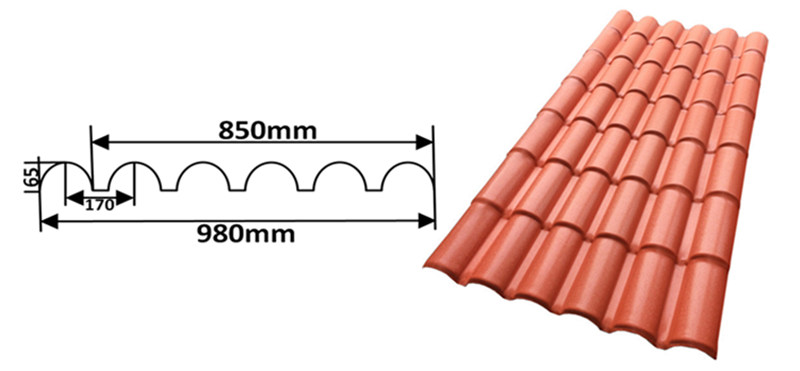 Model

FG-980

Overall Width

980mm

Useful Width

850mm

Thickness

2.3~4.0±0.2mm

Wave Height

65mm

Length

Customized (Multiples of 320mm)

Purlin Space

800mm

Weight

2.3mm: ≈5.0kg/㎡

2.5mm: ≈5.5kg/㎡

3.0mm: ≈6.6kg/㎡

Container Loading Capacity

Thickness

㎡/20FCL (25 Tons)

2.3mm

≈5000㎡

2.5mm

≈4500㎡

3.0mm

≈3700㎡
As the new generation light-weight environment-friendly building material, FUGU ASA coated Roma PVC Plastic Roof Tiles are a popular choice for diverse applications including flat to sloping roofs, residences, villas, permanent building roofs, shopping malls, farm houses, gardens, rural constructions, market sheds and lots more.
Due to their incomparable features, our range of lightweight, environmental friendly synthetic resin roofing materials have been widely appreciated by the architectural community that recommends them for all types of constructions such as wood, steel, concrete, brick and hybrid constructions.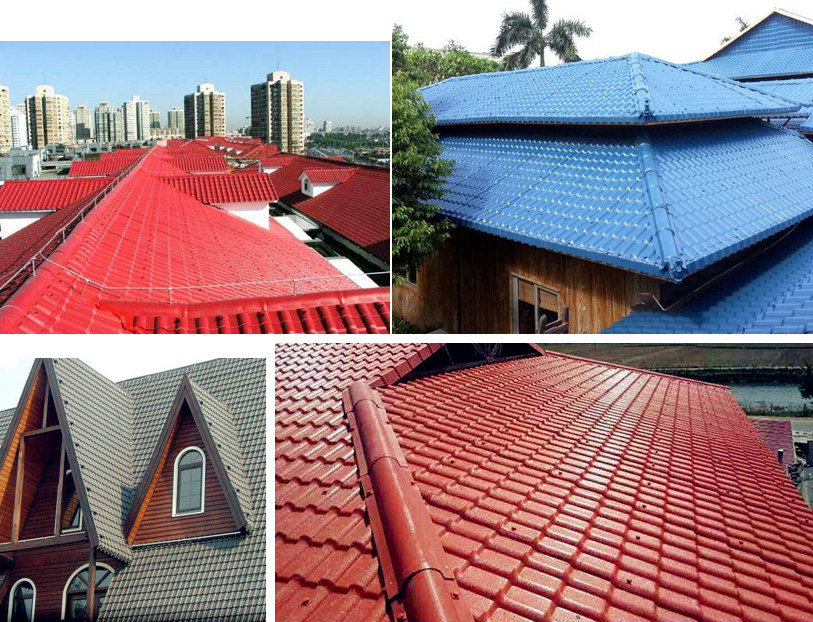 Outstanding Weather Resistance and Corrosion Resistance
As an experienced light weight Roma PVC Plastic Roof Tiles supplier, we ensure that our tiles have stability at the molecular level. The outer surface is coated with ASA, a superior weather resisting resin. Due to these two properties, our excellent quality tiles are able to retain their beauty even with long time UV exposure, humidity, extreme hot and cold conditions as well as other harsh environmental conditions. These roofing tiles are suitable for use in coastal areas and areas with heavy pollution because they can withstand long term exposure to acids, alkali, salt and other types of chemicals.
Load Bearing Capacity and Impact Resistance
Our Roma PVC Plastic Roof Tiles come with excellent load bearing capacity and possess remarkable impact resistance. Through a series of tests we have established that a 1 kg steel ball falling from a height of 1.5 meters does not cause our tiles to crack or get damaged in any way. Our roof tiles undergo ten freeze cycles to make sure extreme cold conditions do not cause any hollowing, bubbling, stripping or cracks in their structure.
Heat Insulation, Sound Insulation, Fire Resistance
Our premium light weight Roma PVC Plastic Roof Tiles are designed to provide excellent heat and sound insulation. In fact, they are safer than steel sheets and can absorb sounds when exposed to extreme weather situations such as storms, gale force winds. They make interiors quiet in such situations. The noise of our tiles is 50 decibels lower when compared to a colored steel sheet. The unique raw materials we incorporate in these tiles ensure good fireproof performance that reaches to class B1. Our tiles are very difficult to burn.
Environment Friendly Material
FUGU Roma PVC Plastic Roof Tiles are recyclable and energy saving. Other materials such as asbestos cannot be completely recycled to meet government environment protection standards but our tiles can, which makes them an ideal choice to preserve the environment. Our tiles are designed with a compact and glossy surface with a unique 'lotus effect' which does not permit collection of dust. The result is that they look brand new and require just a natural wash by rain to get them cleaned. As a light weight Roma PVC Plastic Roof Tiles supplier, we understand the need for easy installation with convenient unloading and transportation. We provide these tiles in large size per sheet for greater installation efficiency. Our tiles can be installed with simple tools and procedures and come with full support accessories.