FUGU Anti-Corrosion Roof Purlin is made from the raw materials of unsaturated polyester resin, continuous non-alkali fiberglass yarn, non-alkali fiberglass chopped stitch felt and processing aids under the high temperature with the reasonable prescription and advanced technology.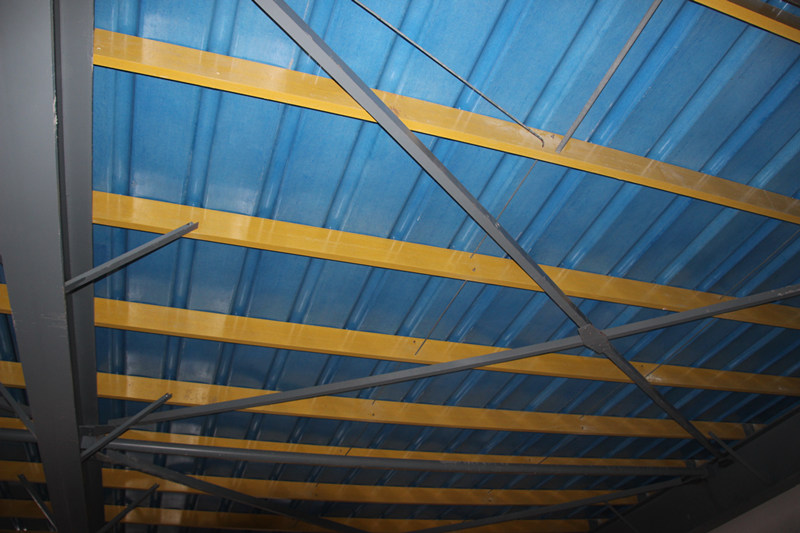 With the reasonable designing, FUGU Anti-Corrosion Roof Purlins have effectively solved the internal corrosion problems of steel purlins and plastic covered steel purlins (PVC dip or plastic spraying), which surface layers are broken and fall off during transportation and installation. And highly meet purlin intensity requirements for light steel structures.
FUGU Anti-Corrosion Roof Purlins have the advantages of excellent corrosion resistance, high strength, easy installation, maintenance free, etc. Which have been regarded as the best material for anti-corrosion, anti-earthquake and anti-typhoon.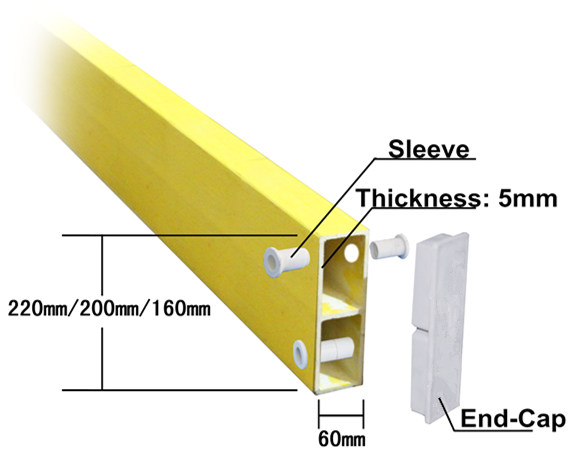 Width

Height

Thickness

Length

Weight

FG-220-60-5

FG-200-60-5

FG-160-60-5

60±1mm

220/200/160±1mm

5±0.5mm

Customized

5.4±0.3kg/m

4.9±0.3kg/m

4.1±0.3kg/m
Size and Parameter:
Size

Weight
kg/m

Anti-loading
Limit KN

Tensile Modulus
Gpa

Tensile Yield Strength
Mpa

Height (mm)

Width (mm)

Thickness (mm)

220

60

5

5.4

15

2.3

150
Allowed Max Beam Space and Purlin Space:
Model

Beam Space

Purlin Space mm/Loading KN/M²

1000

1200

1500

FG-220-60-5

6000

1.66

1.38

1.11

FG-220-60-5

8000

1.00

0.83

0.67
FUGU Anti-corrosion Purlins & Beams, Modern Technological Options for Construction
In engineering terms, a purlin is a structural member, which is manufactured horizontal or longitudinal, and is typically used in the fixing of beams during the roof construction phase.
Traditionally, the purlins were made from wood or steel, but because of the high probability of these items rusting or decaying in bad weather, the FRP channel purlins made by Hefei FUGU Building Material Co., Ltd have become a big success and carry the FUGU brand. These purlins have anti-corrosion properties because they are made from unsaturated polyester resin, non-alkali fiberglass, felt and continuous non-alkali fiberglass yarn, cooked under high temperature.
This is one of the reasons why our Anti-corrosion Roofing Panels are in such high demand both in the local market as well as by international customers. The roof panels and purlins are made so that they have the capability to handle extreme temperatures, which is why their use is now slowly increasing in popularity from the traditional steel and plastic covered steel purlins and beams to the modern fibre-reinforced plastic or FRP beams made by Hefei FUGU Building Material Co., Ltd.
When it comes to building steel structures like garages, workshops, and factories, the anti-corrosion properties of the FRP Roof Purlins made at our factory helps in keeping the weight of the building down. This is a far cry from the corrosion problems that could potentially devastate a steel purlin if not caught in time. In addition, their lightweight qualities mean that they can be easily transported without fear of the channels getting damaged.