As the upgrade product of Color Steel Sheet, FUGU Corrugated Plastic Roofing Sheets adopt advanced co-extrusion technology and use super weather-resistance resin ASA and PVC as main material mixing with UV resistance and other chemical adjuvant to enhance weather resistance ability and color durability.
Model

FG-720W

FG-900W

FG-720BW

FG-1030BW

FG -1080W

FG-900T

FG -920T

FG-1000T

FG -1050T

FG-1030T

FG-1060T

FG -1130T

Width

(mm)

720

900

720

1030

1080

900

920

1000

1050

1030

1060

1130

Useful Width (mm)

640

800

650

950

1000

840

850

915

960

1000

980

1050

Height

(mm)

18

18

35

30

18

25

40

47

40

10

35

25

Thickness (mm)

1.2/1.5/1.8/2.0/2.3/2.5/3.0/4.0+0.2mm

Length

Customized

Purlin Space

600~1200mm

Container Load capacity

Thickness

㎡/20FCL (25 Tons)

1.5mm

≈8300㎡

1.8mm

≈6900㎡

2.0mm

≈6200㎡

2.3mm

≈5000㎡

2.5mm

≈4500㎡

3.0mm

≈3700㎡
Application: Widely used for agricultural trade market, passageway, residence house, industrial, home depot, temporary housing, flat to sloping, villa, sunshade, rain shade, garages, commercial buildings, train station, bus station, newsstand, sports buildings, swimming pool, outdoor playground roof, emergency shelter, building decoration, stage design, exhibition layout, road signs…Specially good effect in corrosive industries, e.g. ceramic factory, fertilizer factory, galvanization factory, aluminum factory, chemical factory, foundry factory, metallurgical factory, farms, pharmaceutical factory, packinghouse, textile &dyeing factory, leather factories, coastal factories, etc.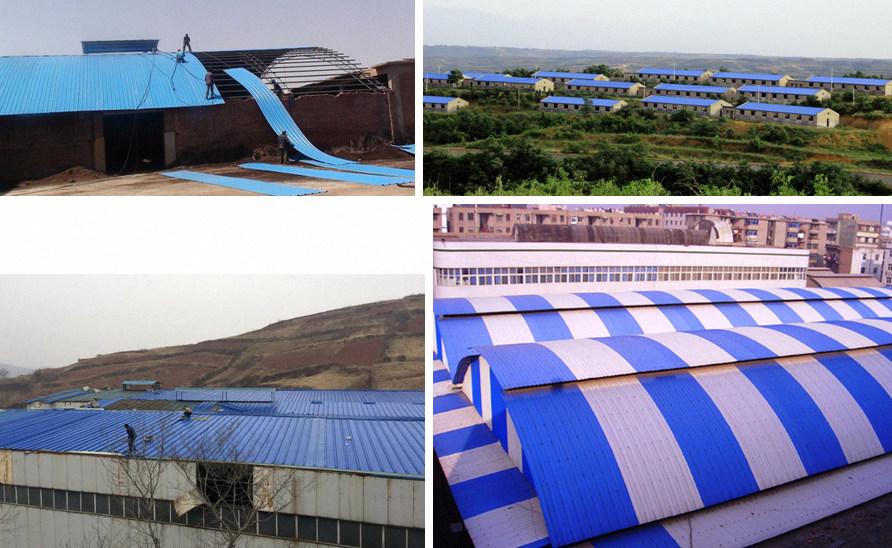 Features Of FUGU Corrugated Plastic Roofing Sheets:
Excellent Anti-Corrosion: The materials of FUGU Corrugated Plastic Roofing Sheets don't react with acid, alkali and salt so it isn't corroded during the use in the long time. It is very suitable for the corrosive factories, acid rain and coastal areas.
Excellent Weather Resistance: It adopts the high quality PVC as basic material adding with UV ultraviolet, absorbent, antioxidant and modifier to ensure the long time durability even under the conditions of longtime espousing in UV, humidity, hot, cold and impacting, etc.
High Anti-Loading Capacity: : Adopt the advanced co- extrusion technology which has higher mechanical strength and physical properties comparing with normal ones.
Good Fireproofing Performance: Fireproofing performance reaches to class B1.
Excellent Heat Insulation: The thermal conductivity of FUGU Corrugated Plastic Roofing Sheets is 0.325 W/m which is about 1/3 of clay roof tile, 1/2000 of 0.5mm color steel sheet. So it can keep the best heat-insulation performance without any heat insulation facilities.
Good Sound-Proof and Noise-Proof : FUGU Corrugated Plastic Roofing Sheets can effectively resist the noise from rain, wind, etc. and the noise is 30DB lower than steel sheet.
Excellent Insulation Resistance: Much more safely than steel sheet especially in the thunderstorm areas and near to high voltage line areas.
Environment Friendly: FUGU Corrugated Plastic Roofing Sheets don't including asbestos and radioactive element, meet the requirement of environment protection, can be recycled completely.
Light Weight: Easy to install and transport, and save cost.